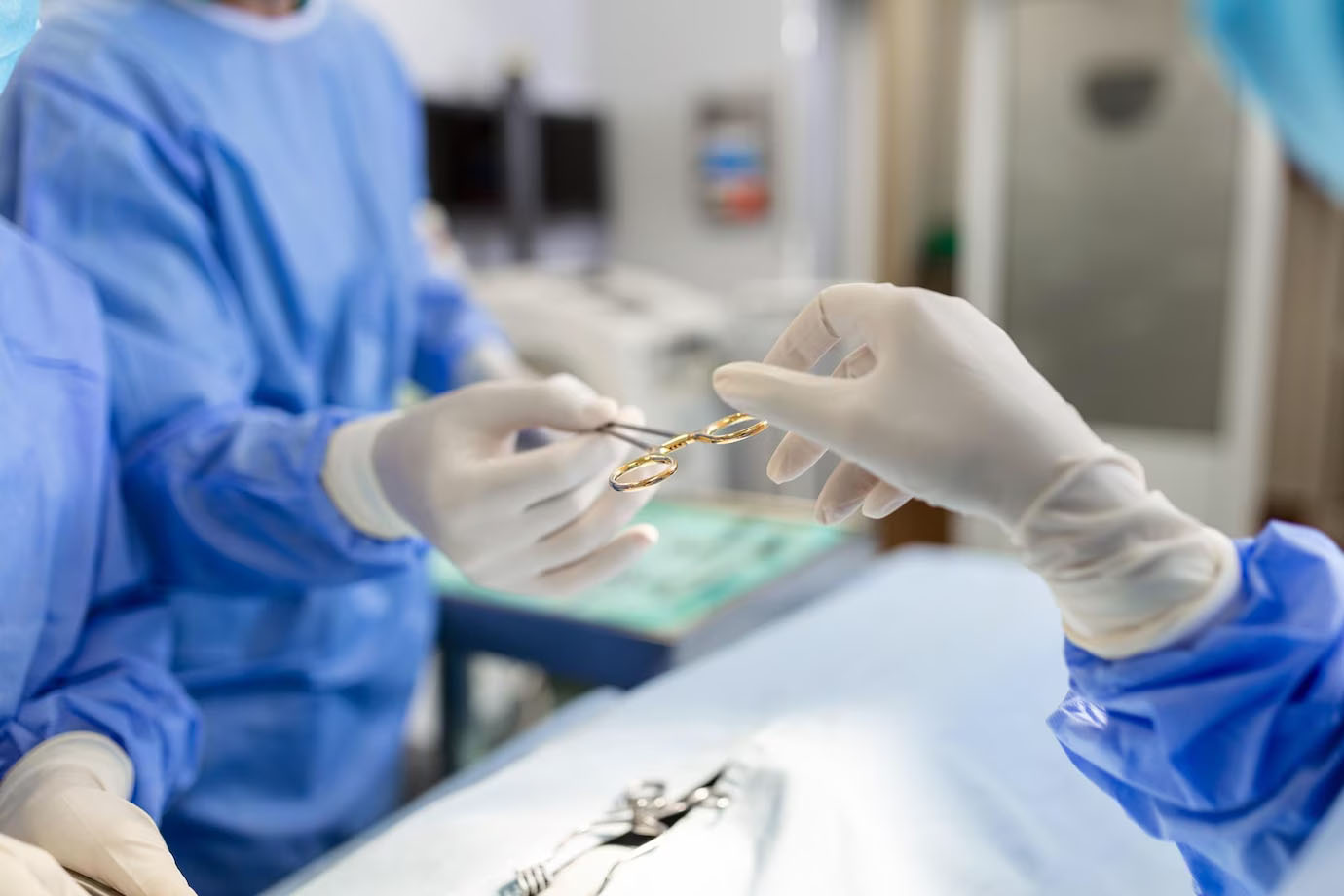 Surgical treatments play an important role in dentistry as we do not only take care of the teeth but the entire mouth. There are numerous dental problems that do not directly affect teeth  but rather the  surrounding soft tissues and the 'home' of the teeth,  the jaws.
We have to mention different cysts in the bones, the alterations of mucous membrane, the shorten of the lips and tongue and other problems and last but not least wisdom teeth. Surgical treatment is needed when placing implants which will be the base of dentures later.
During surgical treatments we have to work accurately and gently within sterile circumstances. Any tool that is used  or come into direct contact with  the patient during the  surgery is sterilized in order to avoid infections.
Frequently asked questions
Is placing implants painful?
As all surgical treatments, placing implants is done with  anesthetic. Modern anesthetics temporarily totally block the stimuli of pain so the patient doesn't feel pain, only maybe some push or  stretch, but they are tolerable. During the recovery some patients can feel pain which they can easily soothe with some simple painkillers.
Why should wisdom teeth be removed?
It often happens that there is not enough space in the jaws for wisdom teeth to come out  and function well but they can cause a lot of problems: in the lack of space other teeth can pile up, or they can pain time by time and can push the teeth next to them.Without having any function, it is reasonable to remove them so that complaints will disappear.Of course, in some cases wisdom teeth function well and can be cleaned in a proper way, so there is no need to remove them.
What does bone grafting mean?
We do bone regeneration treatments with anesthetic just like other surgical treatments. In case of a serious lack of the bone we can gain bone from the hips, but this kind of treatment is only done at hospitals. As it is very rare, you needn't worry about this.
What should or shouldn't I do after a surgical treatment?
To recover quickly you should take some simple advice after the days of the surgery. Your doctor will inform you about them anyway.
Don't drink alcohol
Avoid consuming all dairy products
Don't smoke
Don't eat too hot or too spicy food
Don't pick or suck your wound, only gently rinse it
Clean your teeth with great care even on the day of the surgery and from the following day clean the wound and the area around it with a soft toothbrush
Avoid any physical activity or workout, don't go to the sauna for another 2-3 days, don't take hot bath
In case of any problem contact us without a delay
SURGICAL TREATMENT IN THE CENTRE OF GYŐR
WHAT CAN WE DO FOR YOU?
REMOVAL OF WISDOM TEETH AND OTHER COMPLEX EXTRACTIONS
Wisdom teeth can cause serious problems especially if they are not able to come out of the bone entirely due to their position. You should consider to get your wisdom tooth removed if it causes temporary problems. We also need to complete a surgical treatment  if  we have to remove a tooth from the jaw  or in case of a broken root.
CYSTS IN THE MOUTH
Cysts are sacs or capsules filled with fluid that grow in the bone and require  more and more space there.  The removal of cysts greatly depends on their location and origin, whether they are located at the root of the tooth or somewhere else in the bone further from the teeth.
ALTERATIONS OF SOFT TISSUE
Alterations found on the mucous membrane can be removed and in this case the tissue is sent further to histological examination.
SHORTEN LIPS AND TONGUE
This treatment is usually used in the case of children. Short lips and tongue can cause serious problems, can make eating and speaking difficult and painful. We can alleviate this problem with a quick and simple treatment.
PLACING IMPLANTS
We usually place implants after a long and precise planning. After placing them implants need some time to get fixed in  the bone. In some cases, though, we can place implants that can be used immediately.
BONE REGENERATIVE INTERVENTIONS
When a tooth is lost it is natural that our body starts to vanish the tissue. It can be a problem if we would like to place implants in the bone. Fortunately there are methods which can help regenerate the bone into its original shape. We can use synthetic, organic substitute material or the patient's own bone (or the combination of them) to stimulate the jaws to regenerate the tissues.
Contact
If you have any questions please contact us